Ian Lacy
Lead Project Advisor
Focus: Project Strategy and Development, Management and Training
After his first trip to Africa, Ian Lacy knew that the value of recreational green spaces is universal to all communities around the globe.
As head of Great Britain's Institute of Groundsmanship's Professional Services organization, he'd been sent to Botswana on behalf of FIFA, the International Federation of Soccer, to discuss with groundskeepers in Africa maintainence of the soccer fields FIFA had built in preparation for the 2010 World Cup South Africa qualifying competitions.
"We drove 40 miles outside of the capital of Gaborone into the wilderness," Lacy recalls.
"Living conditions were very simple – earthen houses, no electricity. And suddenly, in the midst of this wilderness there appears this modern football pitch."
That soccer field had clearly become the center of village life, used by several schools and hundreds of children every day and a source of great pride for the local community. A large and enthusiastic group of groundskeepers from the region spent several days with Lacy, discussing how best to keep these treasured resources in safe playing condition.
"I saw what an incredible impact recreational green spaces can have on a community," says Lacy.
He witnessed similar scenes on other FIFA-sponsored trips to nations from Costa Rica to Azerbaijan.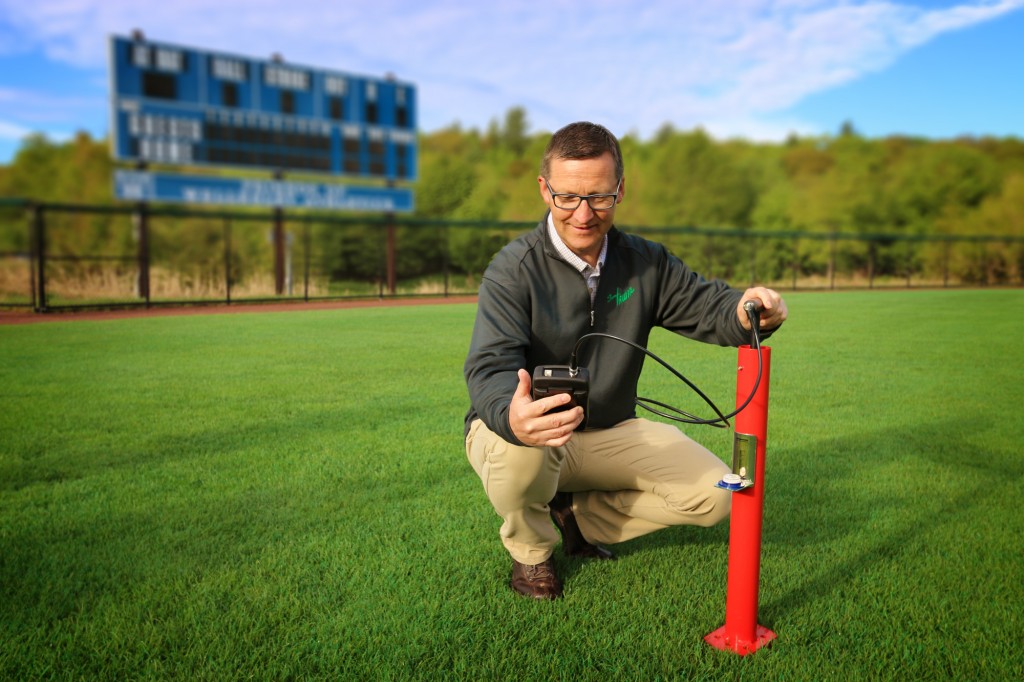 The British-born Lacy traces his love of sports and turf back to his childhood dream of playing professional soccer for his beloved Liverpool. That dream eventually led to Ian signing as an apprentice professional soccer player for Hartlepool United in northeastern England. After a serious ankle injury forced him to abandon soccer, he found a way to keep connected to sports and turf by becoming an apprentice greenkeeper on an English golf course.
After years of work and dedication, Lacy became the head of the Professional Services division of the Institute of Groundsmanship (IOG). At the IOG, Lacy helped develop the sports turf industry's first Performance Quality Standards (PQS). An innovative assessment tool for measuring a playing field's condition and performance sustainability, PQS is now employed by the British government for all field construction projects. Those same standards form the basis of his work as lead advisor for Tom Irwin Advisors.
When asked what has driven him throughout his career, Lacy has a ready answer. "My passion for creating and caring for green spaces started at a very young age," he replies.
"Having started at the bottom as an apprentice greenkeeper, then becoming a qualified greenkeeper, then a head groundsman, taught me the value of proper design and construction and the impact it has on a field's ability to serve a community over the long term."
Lacy is also motivated by a desire to ensure that young athletes get the best possible start.
"Having watched my own son growing up loving sport, I want to make sure that everyone's sons and daughters have the best playing surfaces on which to learn, improve their skills, and enjoy the sport they are playing."
Lacy has shared that passion and expertise during his time as a sports turf lecturer in the UK as well as here in the United States, working in collaboration with US sports turf managers and lecturing to groups across the country on PQS, field design and construction. Lacy also discusses the need for understanding the positive impact that sustainable green spaces have on a community.
"One comes to realize that, whether a village in Africa or a small town in America, our parks and recreational spaces enhance the quality of life in our communities," says Lacy. "That's what drove me across the water to America — that and having a chance to create something very exciting and to be working with a group of fantastic people."