Jack Schmidgall
Design and Construction Advisor
Focus: Design, Build and Management Specifications, Quality Control
Jack Schmidgall is living proof that, with proper guidance, recreational green spaces can be built and maintained sustainably, providing any community with generations of enjoyment.
"People used to come and play on my fields and say, 'Why can't we have fields like this in our town?" says Schmidgall.
"That's kind of where it started. I'd get a phone call from another facilities manager who'd heard from somebody who'd played on the Danvers fields. They had a desire to improve their town's recreational spaces but didn't know where to begin."
For decades, Schmidgall has been the go-to guy for New England facilities managers and groundskeepers seeking advice and guidance.
That knowledge comes from more than 40 years of experience that began when the Wakefield, Massachusetts native took a summer job at Colonial Country Club in nearby Lynnfield. As captain of the Wakefield High varsity soccer team, Schmidgall already understood the value of well-maintained turf to sports performance and safety. After earning his degree in Turf Management at the University of Massachusetts Stockbridge School in 1974, Schmidgall was recruited by the town facilities manager in Wakefield to take over responsibility for the newly-built high school athletic facilities. Schmidgall spent the next decade in Wakefield before moving on to Danvers, where he devoted another 26 years to creating a legacy of sports turf excellence.
Along the way, he developed his own field testing regimen, which he has employed at venues as diverse as Foxboro Stadium and a women's softball complex in Croatia, and took a leading role in pioneering the use of organic nutrients for sports turf.
His efforts did not go unnoticed. Schmidgall received national recognition for his work, including the Sports Turf Managers Association's 1992 Baseball Field of the Year and 1993 Softball Field of the Year, and the High School Baseball Coaches Association 2000 National Groundskeeper/Field of the Year.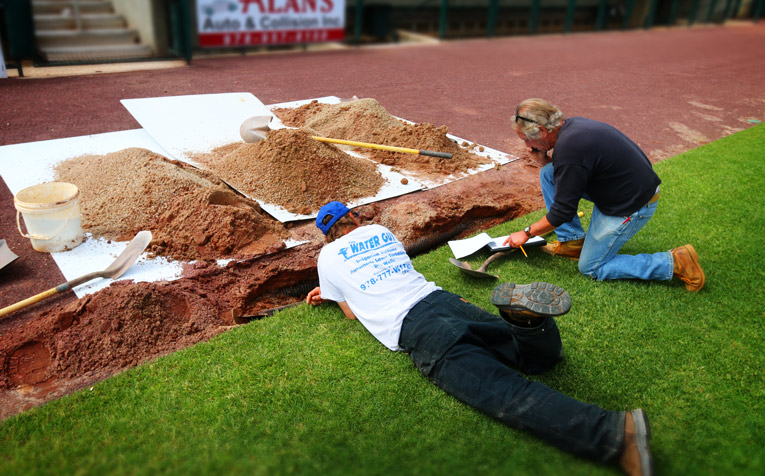 Schmidgall has been equally committed to knowledge-sharing among New England turf and tree professionals. In 1990, he helped found the New England Sports Turf Managers Association (NESTMA), which he served for four years as president. He has also led the Massachusetts Tree Warden and Forester's Association, and served as Athletic Field Representative for the University of Massachusetts Turf Advisory Board.
In many ways, Tom Irwin Advisors represents the culmination of Schmidgall's career.
"It's great working in cooperation with other people in the business who have the same passion and vision in helping communities build safe and sustainable fields for people to enjoy," he says. "We understand how systems operate and how budgets function. We're able to look at all aspects — design, development, construction, management — all in a responsible way, because we're experienced in all those areas. "
That broad, yet deep, perspective is key.
"People are looking for guidance and reassurance, proper specification writing, and quality control. They want to know what they're doing is right," says Schmidgall.
"We can help in almost every situation that can arise — that's something unique to us. We understand expectations and impacts, we offer alternatives, and the result is a comprehensive proposal — the right materials, the right process, the right equipment, at the right cost."